Ashley Lyles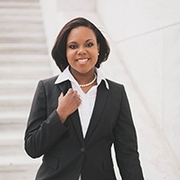 Meet Ashley Lyles, a medical journalist, premedical student, designer, and Michigan State University alumna! Ashley graduated from MSU with a Bachelor of Arts in Professional Writing with a concentration in Digital and Technical Design, but she also completed credits from the Premedical Track. At MSU, Ashley worked at the National Superconducting Cyclotron Laboratory and the Facility for Rare Isotope Beams and was involved in the Charles Drew Science Scholars Program, as well as many other programs related both to science and journalism. Her interests include writing, reading, music, and French— a language she has studied for 8 years. Currently, Ashley is pursuing a master's degree in journalism with a concentration in scientific, health, and environmental reporting at New York University, with the long-term career goal of becoming a television medical correspondent and practicing medical doctor.
What did you get your undergraduate major in, and in what ways do you apply that major today?
I graduated from Michigan State University in Summer 2016. I earned a Bachelor of Arts in Professional Writing with a concentration in Digital and Technical Design. I also took premedical courses. I'm still using many of the things I learned in undergrad. I am currently pursuing a Masters of Arts in Journalism with a concentration in Science, Health and Environmental Reporting at New York University. There is quite a bit of overlap in my writing programs. I am able to apply many of the things I have learned about health during my time at MSU and incorporate it in my writing. I'm also able to apply many of the things I learned in my writing classes now that I am in journalism school, especially my science/medical writing class, digital design class, and visual rhetoric course.
What was your favorite extracurricular activity as an undergraduate?
One of my favorite extracurricular activities in undergrad was when I visited Honduras for a medical/dental Global Brigades trip. Participating in that experience was a huge pivot point; it exposed me to global health. It opened my mind to thinking of ways that I could combine my passion for storytelling and global health. I remember leaving Honduras and wanting to share that experience with everyone back home. It wasn't enough for me to just tell people about it, I wanted to take people there and to actually show them what I saw, who I met, and what I learned. That's when I realized medical journalism and global health reporting would allow me to do that.
Which other career paths did you consider in your life, if any?
I know this is going to sound a bit cliché but I have always wanted to be a physician. I have always considered it to be my purpose. It wasn't until later in life that I considered a career as a medical correspondent. However, over the years, my interests have been pretty consistent.
What is your current career path?
At this point in time, my major career goal is to become a television medical correspondent for a major news outlet. After completing my program at New York University, I am thinking of taking a short break from school to dive deeper into journalism and expand my body of work, but shortly after I want to return to the classroom as a medical student. My ultimate goal is to travel the world reporting on global health epidemics for national news outlets and to write articles about my findings all the while actually practicing medicine.
What parts of your career path do you find most enjoyable and challenging?
I enjoy being able to use something I love to help other people. Although I have not quite been able to fully immerse myself into what I want to do long-term yet, I know that traveling to other parts of the world and reporting on epidemics from the perspective of a physician will help to raise awareness about the needs that exist in other parts of the world. Also, the thought of being able to help patients directly through my medical practice will be really rewarding.
As far as challenges go, I think the biggest challenge is thinking of ways to set myself apart. I mean we all take the same classes to become doctors or journalists. I'm constantly thinking of ways to get what I need from each experience to pursue my goals, while also, doing what is required of me.
How do most people enter this career path? Do you have any advice for students interested in entering this career path?
There is no set trajectory for pursuing a career as a medical correspondent. The path to medical school, however, requires that you complete a number of prerequisite courses, participate in research, volunteer and take the MCAT. But for those who are specifically interested in being a medical correspondent and practicing physician, it is important to be just as skilled and well-versed in your science/medical journalism as you are in medicine. My mentor and professor Dan Fagin says it best, "Science is too important to leave only to scientists, and journalism is too important to leave only to the scientifically illiterate."
If you could change anything about your undergraduate years that you would like to change?
Overall, I had the most amazing time at Michigan State University. I met so many amazing mentors and friends while there, and I was given a lot of opportunity. I'm really grateful for that. But if I could change anything, I would have taken classes in the journalism department, done another global health trip and attended a few more football games to cheer on my favorite football player, my cousin Jamal.
For more about Ashley Lyles, visit her website http://www.ashleylyles.com.
Undergraduate Director
Laura Symonds, PhD
symonds@msu.edu
Academic Advisor
Kanchan Pavangadkar, PhD
kanchan@msu.edu
Undergraduate Secretary
Barbara Bird
birdb@msu.edu
Connect with the Undergrad Major!
Facebook icon