Dr. Brian Gulbransen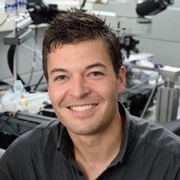 Meet Dr. Brian Gulbransen, a faculty member of the Neuroscience Program at MSU! He grew up just outside the town of Keystone in the Black Hills of South Dakota. He is an outdoorsy guy with humble beginnings. His favorite pastimes include whitewater kayaking, rock and ice climbing, backpacking, fly-fishing, camping, snowboarding and much more . He attended K-2nd grade in one of the last one-room schoolhouses in the region, with a mere 8 other students. When that school closed in 2nd grade he went to Hill City for the rest of elementary, middle and high school. After that he spent 4 years at the University of Wyoming in Laramie for his undergraduate training before going to Denver for Graduate School and then on to Calgary for his postdoctoral fellowship. Here at MSU, his main teaching position is in the undergraduate course for Neuroscience majors called "Introduction to Neuroscience" (NEU301). However, he also contributes to teaching in the "Cellular and Integrative Physiology" (PSL828), "Neurobiology of Disease" (NEU420) and "Cell Biology and Physiology" (PSL535). He has received numerous grants throughout his collegiate and faculty career. As an undergraduate, he received the National Science Foundation EPSCoR Summer Research Fellowship. As a graduate student he was awarded the National Institutes of Health Ruth L. Kirschstein National Research Service Award Individual Fellowship and Public Health Service Neuroscience Training Grant. During his Postdoctoral work, he received the Alberta Heritage for Medical Research / Crohn's and Colitis Foundation of Canada Individual Fellowship, the Achievers in Medical Science Post Doctoral Scholarship, and Canadian Institutes of Health Research/ Canadian Association of Gastroenterology Individual Fellowship. Most recently, as a faculty member here at MSU, he is funded by a Senior Research Award, the NIH, the Crohns and Colitis Foundation of America, the Departmental Program Start-up Grant by MSU, Pharmaceutical Research and Manufacturers of America Foundation Research Starter Grant in Pharmacology/Toxicology, and the American Neurogastroenterology and Motility Society Research Grant.
How and when did you know what you wanted to do?
Well actually, I didn't start off college intending to pursue enteric nervous system (ENS) research. I started researching the ENS when I was studying as an undergraduate in Wyoming. I was a zoology and physiology major, and I actually went there in hopes of working for game and fish and to do wildlife research. In my department (of zoology and physiology), I was pushed to get involved with research. We had a lot of opportunities to get into labs because the school was small and one day as I wandered around the department I came across a poster I was interested in and I went in and talked to that professor about his research. I was fortunate and received a position in that lab, an ENS lab. I realized that I really enjoyed learning about physiology, a little more so than zoology. From then on, I knew I was interested in neuroscience as a field. I received my PhD in Neuroscience. However, my program was very broad and I knew that the experience I had in graduate school didn't interest me as much as what I had been doing as an undergraduate studying the enteric nervous system. So then I knew that the ENS was what I wanted to focus on for my career and so I went back to studying it as a post-doctoral researcher.
What steps did you take as an undergrad/graduate student to get to where you are?
My graduate advisor really helped me with this. He told me that every step is a stepping-stone. I needed to know what to do well at in order to get where I wanted to be. He told me to plan 5 years in advance and be able to see where I want to be in 10 years. I then had to figure out what to do to reach my 5-year goal each year. Then I basically needed to narrow down those individual years to the days, otherwise it gets to be too late do to those things.
So the first major stepping stone to my career was that as an undergraduate: my research lab experience, award funding, and the training that came along with it, that allowed me to have access to graduate level courses which was a great preparation for graduate school. It also allowed me to become familiar with graduate faculty. Then at graduate school, I was able to publish a few papers and receive NIH funding which was really important for me to be a competitive post doc candidate. Then as a post doc, I was targeting a research-intensive faculty position, so I knew I needed to have a strong record of funding and big publications. And that's what I was shooting for. By the time it came time to apply, I had several fellowships and many papers published, and was a strong faculty candidate and got hired!
Can you describe a typical day at work?
Unique! As a post doc all you do is research, your whole job is research, everyday you just do research. Which is fun but just very routine. Then, when you become an academic researcher everyday is different, all the time. Every day brings a new challenge. Nothing is really too repetitive. I am teaching, writing, doing research (not as often as I'd like), going to committee meetings and other commitments, reading, reviewing papers, submitting papers, and traveling. It's nice because you can have the craziest research ideas, and do them as long as you can get it funded and published and so I have a sense of freedom! The academic part of my job brings new challenges but allows me to learn about teaching methods. Sometimes I wake up early or come in and do research on Saturdays, but the typical day is mostly an 8-6 job on average. The job definitely requires finding a work-life balance, to avoid becoming burnt out. I really try to do this balance; I believe the best ideas come to you when you're doing something else. I try to take breaks otherwise I would just stress out.
Can you tell us about your experience at MSU and the Neuroscience Program?
There's not many of us that are primary neuroscience faculty, it's really new, so it's really exciting. There's something cool about being involved with the start of all of it. I actually started the same year as the neuroscience major, when we only had 40 majors and now we have 600 majors! The growth is crazy! It's great to be apart of it and to be able to see how the program is evolving. I feel like it might become something really big here.
What do you believe are some of the best careers to pursue as a neuroscience major?
I really believe every student should get involved with research, so to me, an obvious choice with a neuroscience major is graduate school. However, everyone is only limited by what you set yourself up for. I would like to emphasize careers other than just medical school. With advancing technology we can ask a lot more cool and specific questions than ever before with research. Other than graduate school, there are a variety of unique jobs available for bachelor degrees in Neuroscience. For example, someone with a science degree can work for a pharmaceutical company, be a scientific writer, be a patent writer, a lawyer, can go into public policy or governmental policy.
What are your best memories?
The first discoveries by the lab were super exciting; collecting data and seeing tangible results! I also really enjoy seeing the success of my students in the lab and my classes.
Undergraduate Director
Laura Symonds, PhD
symonds@msu.edu
Academic Advisor
Kanchan Pavangadkar, PhD
kanchan@msu.edu
Undergraduate Secretary
Barbara Bird
birdb@msu.edu
Connect with the Undergrad Major!
Facebook icon