Hannah Batchelor
Release Date: Feb 22, 2016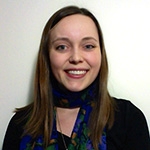 Hannah Batchelor arrived to MSU by way of Waterford, MI. She began her hands on experience with neuroscience by doing an internship the summer after her freshman year with the Department of Electrical and Computer Engineering. There she studied neural engineering and presented a poster called, "Design of a novel behavioral set-up for operantly conditioning rats in a sensorimotor task." The following summer she was a RISE Scholar through which she performed diabetes research at the Institute for Clinical Biochemistry and Pathobiochemistry in Dusseldorf Germany. Currently, she is an undergraduate research assistant in the department of Physiology and has been pursuing research there for the past three years. She presented her research at the annual meeting of the Society for Neuroscience in Chicago this past October. She is currently one of the Learning Assistants for the Neuroscience Laboratory course. This past summer Hannah was selected for an internship at the National Institute of Health where she studied the effects of Xylosides on the Chondroitin Sulfate Proteoglycan profile and neurite outgrowth. She has received multiple awards from the university including but not limited to: 2015 College of Natural Science Undergraduate Research Support Scholarship, 2015 Society for Neuroscience Trainee Professional Development Award, 2015 Dan Bolin Undergraduate Student scholarship, 2015 MSU University Undergraduate Research Forum: Best Poster Award: First Place, 2014 MSU Neuroscience Program Undergraduate Research Fellowship, 2014 DAAD RISE Fellowship Scholar, 2014 College of Natural Science long-term study abroad, and has been on the Dean's List for seven semesters. She is also the current President of the Neuroscience Club and an undergraduate Research Ambassador for the Undergraduate Research office (URCA) at MSU.
How and when did you know what you wanted to do?
Coming into freshman year I was very unsure of what I wanted to do. I had little experience with biological sciences, but after taking some introductory level biology courses, it became clear to me very quickly that I wanted to pursue science in some way. Both of my parents are social workers, so I have spent most of my life being very aware of and thinking about why people act the way they do. The struggles people face within their minds have always spoken to me, and I think when I realized that many of these problems have a biological basis, that is when I really started to fall in love with neuroscience. I started going to the Neuroscience Club meetings and getting to know others students with similar interests. The major was still brand new at the time and I remember feeling like I had found a little neuroscience family, which I think really nourished my interests. I started volunteering in a neural engineering lab my second semester here in an attempt to learn more and get more engaged in neuroscience and ended up working on an independent research project in that lab the following summer. Sophomore year I started working in a neurophysiology lab, which I have been in ever since, and that was ultimately where I truly came to an understanding of what I want to pursue as a career.
It was probably some time junior year that I started to have a pretty good grasp on what I wanted to do. By then I had been in several different labs and was starting to get more independent and confident in my research. I realized that this was no longer something I was just doing to learn more about neuroscience but something I could excel in and find purpose and excitement in. There are endless possibilities in neuroscience research and so many avenues to impact the lives of those suffering from neurological or psychiatric disorders, and this is something worthy of dedicating my life to!
How would you advise an undecided science major?
I would advise them to get involved in research – any kind of research! Undergraduate research at Michigan State provides an amazing opportunity to dabble in many different areas of study and learn more about what speaks to you. You may not discover a career path in research like I did, but the things outside of that, that you learn while doing research will help you learn more about yourself and develop the skills needed in any science-related field. Many doors will open up, and you will meet many influential people, all of which will help you refine your interests and strengths.
What advice would you give to students who are currently pursuing undergrad education?
Take this time to really learn about yourself both academically as well as personally. MSU is such a safe environment to experiment and try new things. If you really apply yourself and seek opportunities that will challenge you, there are so many amazing and unique opportunities here for anyone. This is the time to push yourself and test your limits. I would challenge everyone to never do something because they think "it will look good on my resume" but to truly try to find opportunities and create things that excite you. Never again in your life will you find yourself in such a rich and malleable environment, so take advantage of it. Oh, and study abroad!
What does a normal workday look like for you?
I usually have a couple classes I go to and in between class I'm in the lab or in BPS studying or responding to emails. I usually have a handful of meetings throughout the week, volunteering here and there, etc. Once a week, a couple of friends and I Skype to talk about recent publications in the scientific literature, and lately I have been having a lot of Skype or phone interviews for various research positions that I have applied for next year. There's always something to do! Lately, however, I have been getting better about saving time for myself throughout the week, which I think gets more and more important as I continue to progress.
How would you describe the working atmosphere and the people with whom you work?
Perks: In the lab, I'm constantly surrounded by people who I can bounce ideas off of and we can discuss science in ways that you don't get in the classroom. It's a chance to let my imagination go free without worrying about being "scientifically correct" all the time, like you might be in class. That's the fun part of science to me, and where some of the best ideas come from! We learn a lot from each other and feed off of each other's enthusiasm for our research. Through my various research experiences, I have also acquired many amazing mentors and met many people who I can look to for advice or advocate for me.
If you could go back, what would you do different, if anything?
For the most part, I feel as though I got way more out of my time here and did way more than I ever thought I would when I started at MSU. There are very few things that I would change. That said, I do wish I would have learned sooner the importance of school-life balance. I gave up a lot of my hobbies when I started college because I spent so much time focusing on classes and extracurricular activities. However, I have slowly learned how to find the balance.
Through working as a Lab Assistant for the neuroscience lab course, I have gotten a lot of great practice explaining science to others and helping others understand.
What do you believe is the one thing at MSU that every student should get involved in?
Everyone at MSU should study abroad if they can!
Undergraduate Director
Laura Symonds, PhD
symonds@msu.edu
Academic Advisor
Kanchan Pavangadkar, PhD
kanchan@msu.edu
Undergraduate Secretary
Barbara Bird
birdb@msu.edu
Connect with the Undergrad Major!
Facebook icon