Mario Swaidan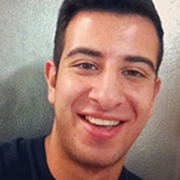 Mario Swaidan came to MSU by way of Plymouth, Michigan. He began his higher education career at the University of Michigan-Dearborn and transferred to MSU his second semester. After transferring, he eagerly joined organizations on campus and participated in community outreach. Mario began volunteering at an assisted living facility in his hometown and as a patient concierge in the Emergency Department of Sparrow Hospital in Lansing. Soon after, Mario expanded his experience at Sparrow Hospital by training and working as a Medical Scribe in the Emergency Department. On campus, Mario became a Tour Guide for MSU and helped engage prospective students to become Spartans. After joining Global Health Brigades his sophomore year, Mario traveled with 50 Spartans to Honduras to provide Medical and Dental Relief. Mario went to SCUBA School through MSU and obtained his certification through Scuba Schools International. He has since dove seven shipwrecks and has used his license to help restore the Red Cedar by participating in the last three biannual Red Cedar Clean-Ups hosted by the MSU Fisheries and Wildlife Club.
Currently, Mario is performing research with Dr. Cecilia Martinez-Gomez in the Department of Microbiology and Molecular Genetics where his project focuses on neurodegenerative diseases. He recently presented a poster titled "Flux Balance Model in Methylobacterium extorquens AM1" at the University Undergraduate Research and Arts Forum (UURAF). When not spending his time in the laboratory, Mario expends his time with student organizations on campus in which he holds four executive board positions. He co-founded an organization on campus called Volunteers Around the World (VAW) and stands as the current Vice President. He will be leading 26 Spartans to Panama this summer to provide medical and dental relief for the chapter's first ever brigade. VAW was recognized with the Global Community Service Award for their accomplishments. Further, Mario has been a distinguished member of the Neuroscience Club over the last two years and stands as the Director of Marketing. He is also a Student Ambassador to the Neuroscience Program. Mario holds the Director of External Affairs and Recruitment position for MSU's chapter of the world's largest human rights organization, Amnesty International. Lastly, his fourth executive board position belongs to the MSU Scuba club as the Secretary.
Mario is also a Spartan Entrepreneur and Venture Path Scholar. Every week he meets with a Spartan Innovations executive who teaches him one of the twenty-four steps on how to make a company as part of the Venture Path Program. Mario taught himself electrical engineering and built his own drone. Turning his hobby into a business, he founded his own drone manufacturing company called American Aeronautics, LLC. Since doing so he has received funding from MSU to reimburse his expenses and help expand his company. Additionally, Mario has been accepted into the Conquer Accelerator Program and has earned MSU's investment as an official partner in his company. Through his hard work, Mario was chosen as a representative for student entrepreneurship on campus and engaged Senator Peters during his visit to MSU. Mario was also formally invited to eat lunch with the University's President, Lou Anna K. Simon, to discuss the success and direction of his company. Recently, he has taken the prospects of his company beyond MSU and competed in the 2016 Michigan GreenLight Competition. Mario plans to continue growing his company after graduation and hopes to apply to medical school over the summer.
Mario Swaidan graduated on May 7, 2016 with a Degree in Neuroscience from Michigan State University.
The credit for the following interview goes to the Department of Undergraduate Entrepreneurship and Innovation. You can learn more about the department at http://eship.msu.edu
What is your company/start-up? Please provide a brief explanation.
My company is called American Aeronautics, LLC and it is a Michigan based drone-manufacturing company. As a company, we are transparent about how the rc circuit comes together and all our parts come ready for use. We have developed propeller shells, which protects the users. We are currently developing technology to allow for children to be able to build multi-rotor drones, such as a quadcopters, within the lesson-plan of a class or after school program. The drones are of quality for use in business, leisure, and competitive sport. Currently we are testing our models in a lab and in a competitive drone-racing league.
What inspired your start-up?
Exposure to a drone market that left much to be desired. When something falls you are not given any instruction of what parts to replace and a lot of the parts are meant to deteriorate quickly, through planned obsolescence. I wanted to use high quality parts in a transparent way as to allow the client to have only the parts necessary for their purpose in flight, while also leaving infrastructure for easy upgrade at any point in the future. I also wanted to teach the many people I know who are coming around to the hobby how to safely fly an unmanned aerial vehicle.
If you used any Michigan State resources for your business, what were they and how did it help your business grow?
MSU has provided me with tremendous opportunity. I have been able to network with people including being formally invited to eat lunch with the president of the university to meeting with Senator Peters. I have also received funding that allowed for building the drone prototype, which really helped me. This has helped my business grow because now I have everything I need in order to produce drone prototypes. As I develop an actual product MSU is providing a suite of mentors and advisors to help me head in the right direction. I will be spending the summer post-graduation in an intensive 10-week program called the Conquer Accelerator from May-August, during which I will prepare the drone kits for market.
What have you learned from this experience? If your business failed, would you do it again? Why?
I have learned that if you want a business and to build it from the ground up you have to be aware of how far you've come while having the drive to continue ahead. My business has failed in regards to parts coming in and not working and me having to spend months to get everything flashed, soldered, and engineered to be airborne. I would absolutely do this all over again because it has showed me that anything is possible with effort.
Any advice you would like to pass along to other student entrepreneurs?
Stay upbeat and positive. You should document your ideas and begin to develop them and if you are serious about making them a reality, MSU has the resources to make it happen. With that said, visit the Hatch and speak to faculty about your business venture.
Undergraduate Director
Laura Symonds, PhD
symonds@msu.edu
Academic Advisor
Kanchan Pavangadkar, PhD
kanchan@msu.edu
Undergraduate Secretary
Barbara Bird
birdb@msu.edu
Connect with the Undergrad Major!
Facebook icon