Nicholas M. Kanaan, PhD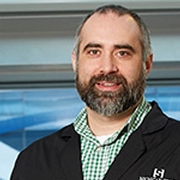 Associate Professor, Translational Neuroscience
Ph.D., 2007, Rush University Medical Center
Grand Rapids Campus
Grand Rapids Research Center
616-234-0956
nkanaan@msu.edu
Kanaan Lab Website
Translational Neuroscience Directory
Research Interests
Dr. Kanaan's laboratory researches neurodegenerative diseases such as Alzheimer's disease (AD) and Parkinson's disease (PD) as well as the role of aging-related changes in neurodegenerative disease. Studies in the Kanaan lab focus on the mechanisms underlying degenerative diseases and exploring therapeutic strategies. A combination of experimental approaches, including in vitro and in vivo model systems, is used to tackle scientific questions.
One of the current topics under investigation is the role of tau, a microtubule-associated protein, in the pathogenesis of AD and other tauopathies. Tau has historically been described as a microtubule stabilizing protein; however, accumulating evidence supports a more diverse functional repertoire. In particular, his lab is interested in understanding how disease-related alterations in tau cause neuronal dysfunction through the disruption of axonal transport. A recently identified phosphatase-activating domain (PAD) in the extreme N-terminus of tau (amino acids 2-18) inhibits anterograde fast axonal transport through a signaling cascade involving the activation of protein phosphatase 1 and gylcogen synthase kinase 3. Using a multifaceted approach, he studies the molecular mechanisms behind tau-mediated axonal transport inhibition by expressing tau proteins in cultured neurons and neurons in vivo. To complement the studies in culture and animal models they use a host of in vitro biochemical and molecular biology assays.
Regardless of his specific basic science endeavors, one of Dr. Kanaan's fundamental aims is to conduct research that will ultimately translate into improvements in the lives of the people affected by these devastating diseases.