Mohammed Alhadidy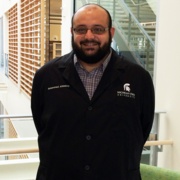 Faculty Advisor: Nicholas M. Kanaan
B.S., 2009, Cairo University
Entered Program in 2018
alhadidy@msu.edu
After completing my BS from UC San Diego, I continued my research career at UC San Diego first as a lab technician studying protease processing of neuropeptides using LC/MS techniques with Dr. Vivian Hook. I then became the primary lab technician of Dr. Sweeney's lab, focusing our research on the cellular and molecular mechanisms of autoimmune diseases: Rhuematoid Arthritis and Lupus. After several years and a variety of lab research experience, I became enthralled with neuroscience when I joined Dr. Ruth Wood's lab at the University of Southern California. While in Dr. Wood's lab I studied the effects of chronic anabolic androgenic steroid abuse on impulsive behavior and drug abuse using a rodent model. Following my new passion for neuroscience, I joined the Neuroscience Graduate Program in Fall 2013 to further my education studying the effects of drug abuse and stress on behavior and neuron morphology.
Current Research Interests
I am in interested in the effects of chronic emotional or physical stress on opiate function, and its combined effect on the reward pathway in the brain. My project uses a recently developed Chronic Social Defeat Stress (CSDS) model where mice witness, but do not physically experience, the subordination stress of the CSDS model. Using this paradigm, I am able to characterize the behavioral and molecular effects of emotional stress on the use of pain-relieving opiates without confounds of physical pain. In addition to characterizing the behavioral changes from chronic emotional stress, I am working towards identifying novel molecular markers of susceptibility to emotional stress induced changes in the Ventral Tegmental Area (VTA) and the Nucleus Accumbens (NAc).
Personal Interests
I spend most of my free time as a competitive highland bagpiper and active member of the Greater Midwest Pipe Band. This involves frequent trips to competitions across the US, Canada, and Scotland to compete in solo and band competitions hosted by Scottish Highland Festivals. I also spend time compiling, formatting and editing music for publication. Seumas Coyne's Collection of Bagpipe Music Vol. 1 (2008) and Vol. 2 (release: 2015).