Brain Puzzle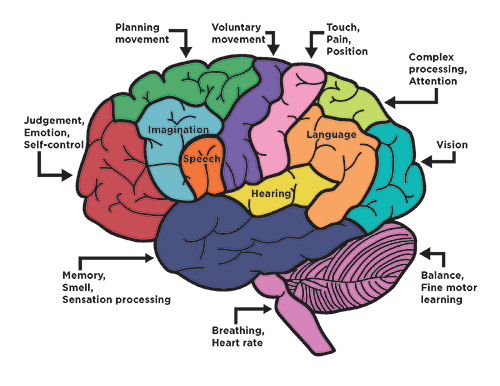 Brain Puzzle: Cut the pieces, assemble the puzzle, all while learning about brain structure and function!
Materials
Crayons or markers
Scissors
Glue or glue stick
Directions
Cut out the puzzle pieces. You can choose from precolored pieces or blank pieces that you can color yourself
Choose a difficulty level. The easy version shows outlines for each puzzle piece whereas the hard version only shows the perimeter of the brain
Get to work! Assemble the puzzle. Either glue the pieces to the paper for a keepsake or keep the pieces for recreating the puzzle later.
Discussion Points
Different areas of the brain are responsible for different functions.
If a patient had damage in the very back of the brain, what function might be dysfunctional? (Answer: vision)

Brain Puzzle by Michigan State University Neuroscience Program is licensed under a Creative Commons Attribution-NonCommercial-ShareAlike 4.0 International License.
The Brain Puzzle was created and developed by Cynthia L Jordan and Casey Henley.
Faculty Coordinators
Valerie Hedges, PhD
Casey Henley, PhD
Jenny Taylor, PhD
MSUNeuroscienceOutreach
@gmail.com
Stay connected with NSP Outreach
Facebook icon